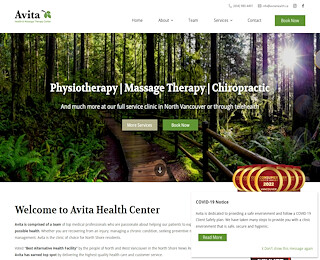 Avita Health & Massage Therapy Center in North Vancouver serves the community with rehabilitation, prevention and maintenance through therapeutic massage techniques within a professional environment. Avita Massage Therapy treats a wide variety of conditions including occupational and posture related problems, accident related injuries, stress reduction, sports injury, pregnancy related issues, headaches, lymph and circulatory conditions and nerve conditions.  
When thinking about Massage treatment in North Vancouver, knowing that all of Avita's therapists are Registered Therapists makes it easy to make the choice to have their professionals Therapists work on your condition. All Avita Therapists must maintain a good standing with the B.C. College of Massage which upholds high standards and qualifications.  
Avita believes in putting power in the hands of their patients by education designed to assist you in reaching your health goals and maintaining them. They offer low cost presentations given by a variety of speakers on a broad range of health topics.  
The convenience of enjoying Massage Therapy at Avita is enhanced by:
- Direct billing for most extended health plans
- Extended hours (7:45 am to 8pm Monday through Friday and 9am to 5pm on Saturdays)
- Full front end reception services
- Convenient and free parking  
The Massage Therapists at Avita begin by learning what your individual health goals are and then working toward meeting your needs and reaching your goals by means of a therapeutic massage treatment plan that includes homecare advice to assist you in maintaining your health in your own home.  
Avita offers Massage Therapy for sports injury including Massage techniques, Graston techniques, Active Release techniques and Kinesiology Taping, all designed to help athletes achieve optimal performance and recover from injury faster.  
Enjoying therapeutic massage in North Vancouver is as easy as making an appointment at Avita Health & Massage Therapy Center.
Massage North Vancouver