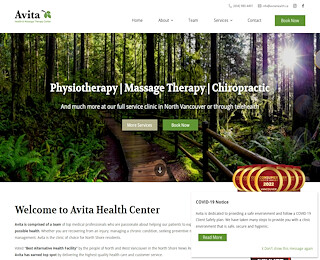 Avita Health Massage Therapy Center in North Vancouver offers chiropractic services which treat the following conditions:
- Sciatica
- Whiplash
- Headaches & Migraine
- Neck & Shoulder Pain
- Rotator Cuff Injuries
- Strains & Sprains
- Ankle & Achilles Injuries
- Carpal Tunnel Syndrome
- TMJ Disorders
- Tendonitis
- Back & Hip Pain
- Many Other Conditions  
If you're looking for a professional chiropractor in North Vancouver, look no further than the expert team of chiropractors in Avita Health. Their chiropractic services can effectively treat your lower, mid or upper back pain, neck pain, whiplash headache, and other aches and pains. By collecting your health history and indications from you about your current health, the chiropractors in Avita can provide the best possible treatment plan to help you meet your goals.  
Stop in and visit with a chiropractor in North Vancouver to diagnose your condition and learn what chiropractic services can do to help you with your pain.  
Avita's chiropractors diagnose and treat disorders of the spine and other body joints by adjusting the spinal column or by means of corrective manipulation, also advising patients on corrective exercises, lifestyle and nutrition which they can employ in their own homes. For some people, chiropractic care is a bit like a regular tune-up or maintenance designed to help deal with the daily effects of life on the body. For others, it can be a wonderfully effective treatment plan during times when pain or discomfort strikes.  
The Avita Health team of professionals are passionate about helping their patients experience their best possible health. For the convenience of patients, they offer the following services:
- Direct billing for most extended health plant
- Extended hours
- Full front end reception services
- Convenient and free parking  
For the best chiropractic services in North Vancouver, Avita Health & Massage Therapy Center has earned a top place within the community, and for a very good reason.
Chiropractor North Vancouver